Product Description
Product Type:
Weld Neck Flange, Slip On Flange, Socket Welding Flange, Lap Joint Flange, Threaded Flange
Blind Flange/Blind, Orifice Flange, Integral Pipe Flange, Reducing Flange, Pad Type Flange,
Loose Hubbed Flange, Welding Plate Flange, Weldoflange, Nipoflange, Welding Neck Collar,
Welding-on Collar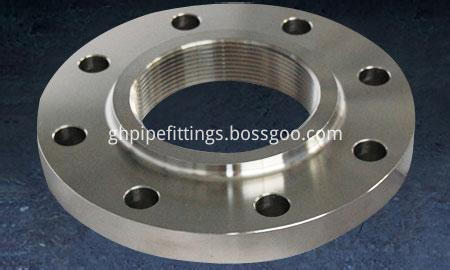 Product Name

THREAD flange

Standard

ASME/ANSI B16.5/16.36/16.47A/16.47B, MSS S44, ISO70051, JISB2220, BS1560-3.1, API7S-15, API7S-43, API605, EN1092

Type

ASTM:Slip on welding flange

Materials

Stainless steel:ASTM/ASMES/A182F304 | F304L |F304H | F316 | F316L | F321 | F321H | F347

|31Ti 309S |310S | 405 |409 |410 | 410S | 416 | 420 | 430 | 630 | 660 | 254SMO | 253MA | 353MA

Nickel Alloy: ASTM/ASME S/B366 UNS N08020| N04400|N06600| N06625| N08800| N08810|N08825| N10276|N10665|N10675|Incoloy 800 | Incoloy 800H | Incoloy 800HT | Incoloy 825 | Incoloy 901 | Incoloy 925 | Incoloy 926, Inconel 600 | Inconel 601 | Inconel 625 | Inconel 706 | Inconel 718 | Inconel X-750, Monel 400 | Monel 401 | Monel R 405 | Monel K 500

Copper nickel:The main material is 90/10 Copper Nickel , 70/30 Copper Nickel.
Super Stainless Steel: ASTM/ASME S/A182 F44, F904L, F317LS32750 | S32760

Hastelloy:HastelloyB | HastelloyB-2 | HastelloyB-3 | HastelloyC-4 | Hastelloy C-22 | Hastelloy C-276 | Hastelloy X |Hastelloy G | Hastelloy G3
Nimonic: Nimonic 75 | Nimonic 80A | Nimonic 90
Duplex Steel: ASTM A182 F51 | F53 | F55, S32101 | S32205|S31803 | S32304
Alloy Steel: ASTM/ASME S/ A182 F11 | F12 | F22 | F5 | F9 | F91

Ti alloy:ASTM R50250/GR.1 | R50400/GR.2 | R50550/GR.3 | R50700/GR.4 | GR.6 |R52400/GR.7 | R53400/GR.12 | R56320/GR.9 |R56400/GR.5

Carbon steel: A105 A350 A694(F52 F56 F60 F65 F70 F80)

Marking

Supply Logo + Standard + Size(mm) + HEAT NO +or as your requirement
Threaded Flanges are also known as screwed flange, and it is having a thread inside the flange bore which fits on the pipe with matching male thread on the pipe.
This type of joint connection is Speedy and simple but not suitable for high presser and temperature applications. Threaded Flanges are mostly used in utility services such as air and water.
Threaded (Screwed) flange is similar to the Slip-On flange, but the bore is threaded. Its chief merit is that it can be assembled withour welding, explaining its use in low pressure services at ordinary atmospheric temperatures, and in highly explosive areas where welding create a hazard.
The various types of threaded flanges are as follows:
Plain Threaded Flanges
Female Threaded Flanges
Male Threaded Flanges
Standards, Dimensions & Weight of Threaded flangesThreaded Flanges can be used in very high pressure services and their major advantage is that they can be assembled without welding.