Product Description
He Bei GuangHao Pipe Fittings Co .,LTD Specializing in the production of steel pipe and pipe fittings
Main production:Heat Preservation Anticorrosive Pipe,Seamless Pipe,ERW/HFW Steel Pipe,LSAW STEEL PIPE,Spiral Tube,Buttweld Steel Pipe Fittings,Industrial Flanges,Steel Pipes,Buttweld Elbows,Buttwel Tees,Forged fittings,etc.
Welcome to discuss

Forged Fittings/Buttweld Steel Pipe Fittings Type: Elbow, cross, street elbow, tee, coupling, half coupling, cap, plug, bushing, union, outlet, sage nipple, bull plug, reducer insert, pipe nipple etc.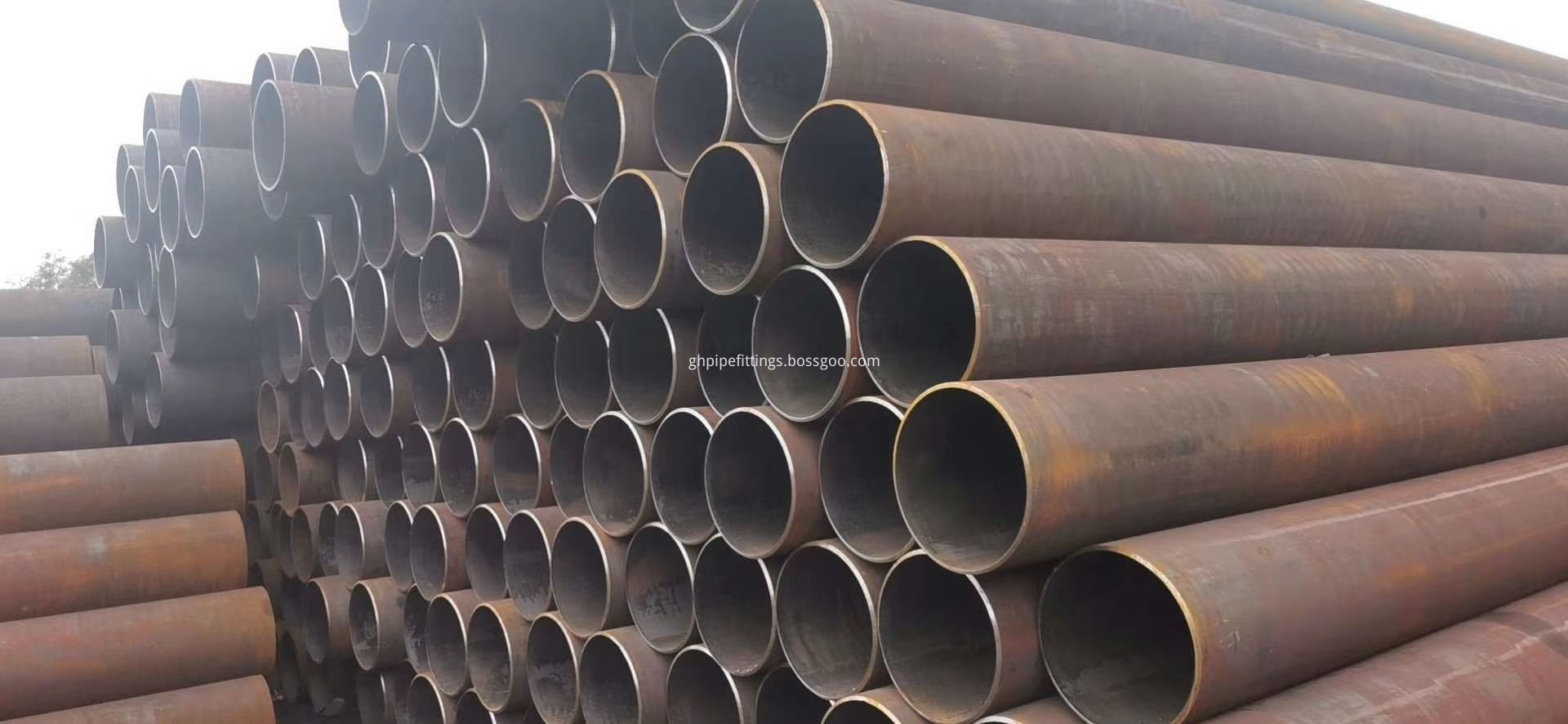 ASTM A53 Steel Pipe Specifications Standard Specification for Pipe, Steel, Black and Hot-Dipped, Zinc-Coated, Seamless
ASTM A53 (ASME SA53) carbon steel pipe is a specification that covers seamless and welded black and hot-dipped galvanized steel pipe in NPS 8″ to NPS 32". A 53 is intended for pressure and mechanical applications and is also acceptable for ordinary uses in steam, water, gas, and air lines.
A53 pipe comes in three types (F, E, S) and two grades (A, B).
A53 Type F is manufactured with a furnace butt weld or may have a continuous weld (Grade A only)
A53 Type E has an electric resistance weld (Grades A and B)
A53 Type S is a seamless pipe and found in Grades A and B)
A53 Grade B Seamless is our most polar product under this specification and A53 pipe is commonly dual certified to A106 B Seamless pipe.
Federal Steel Supply has a full range of stock in A53 steel pipe (SA53 steel pipe) in:
Grade B
Sizes
Our production Range NPS 8" to NPS 32" O.D. seamless
Wall thickness: Schedules 10 through 160, STD, XH and XXH
Commonly requested unscheduled walls up to 4" and certified minimum wall items
Chemical Properties %
Grade

C,

max

Mn, max

P,

max

S,

max

Cu*,

max

Ni*, max

Cr*, max

Mo*, max

V*, max

Type S(Seamless)

A
0.25
0.95
0.05
0.05
0.40
0.40
0.40
0.15
0.08
B
0.30
1.20
0.05
0.05
0.40
0.40
0.40
0.15
0.08

Type E

(Electric-resistance Welded)

A
0.25
0.95
0.05
0.05
0.40
0.40
0.40
0.15
0.08
B
0.30
1.20
0.05
0.05
0.40
0.40
0.40
0.15
0.08

Type F

(Furnace-welded)

A
0.30
1.20
0.05
0.05
0.40
0.40
0.40
0.15
0.08
*The total composition for these five elements shall not exceed 1.00%
Mechanical Properties
| | | |
| --- | --- | --- |
| | Grade A | Grade B |
| Tensile Strength, min., psi, (MPa) | 48,000 (330) | 60,000 (415) |
| Yield Strength, min., psi, (MPa) | 30,000 (205) | 35,000 (240) |
(Note: This is summarized information from ASME Specification A53. Please refer to the specific Standard or Specification or contact us for more details.)